Fix Back Pain
Just been to the printer and picked up 50 copies of my new book, Fix Back Pain. I'm as pleased as punch.
I've been slaving away at it all January; had a heap more drawings done and added chapters on neck pain, shoulder pain, wrist pain, hip pain, knee pain and calf, Achilles and shin pain.
It's looking good and will form the basis of revisions to the
ebooks
available from
http://www.globalbackcare.com/
and the
CrookBack
Clinic practitioner's training program.
The insight I had while writing it was that you can't fix a fitness problem with a medical solution. Too many people are traipsing through surgeries when all they need to do is get down on the floor and do a few exercises to square
themselves
up.
This is neither medical nor rocket science.
A very high proportion of
musculo
-skeletal dysfunction is personally generated by bodies that are weak and tight.
In a way that's good news because you can loosen and strengthen your body off without much effort.
In fact if you do this exercise every night for 40 minutes, there's a good chance you'll feel a lot better in a month. 2 months and you should be jumping out of your skin.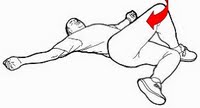 Like this one, most of the exercises to loosen your body can be done in front of the TV, either sitting up or lying down.
In the meantime stay tuned, highly tuned and don't try to fix fitness problems with medical solutions.
John Miller
Labels: Fix Back Pain. back pain cause, lower back stretches